25.05.22 - Seoul, South Korea - Bereket Alemayehu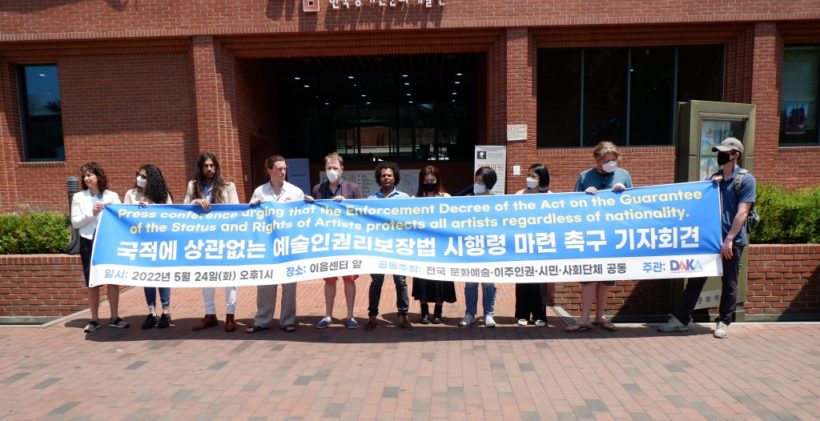 We've seen the birth of a new Korean Dream in recent years, during Korea's meteoric rise to become the 10th largest economy in the world. Artists from every nation, inspired by Korea's past and present culture, are flocking to its shores, says the press statement letter of Diverse Artists of Korea Association (DAKA).

An initiative fighting for the Guarantee of the Status and Rights of Foreign Artists, DAKA held a press conference on May 24, 2022, in Seoul. Recently, DAKA has been conducting a solidarity campaign and has collected public support statements from various organizations and artists, including 501 individual solidarity signatures.
It's known that the Ministry of Culture, Sports and Tourism of Korea is currently debating the enforcement decree of a new law, 'Act on the Guarantee of the Status and Rights of Artists' (AGSRA), which will go into effect in September 2022. Prior to the May 24th afternoon, a second public hearing on the enactment of the Enforcement Decree and Enforcement Rules of the Act on the Guarantee of the Status and Rights of Artists together with the Korea Artists Welfare Foundation session started.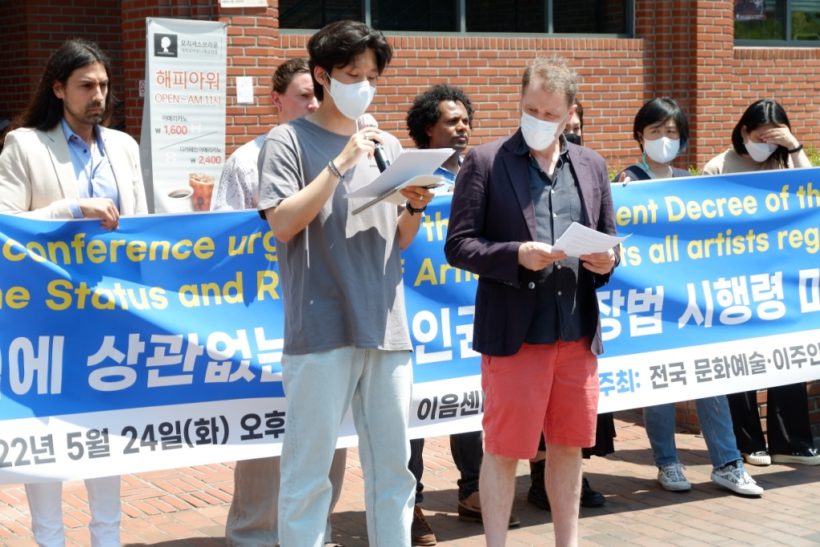 Representatives of foreign artists and human rights supporter groups gathered In front of the Korea Institute of Disabled Culture and Arts Building to voice out their concerns. DAKA officially requested some clarifications on AGSRA so that the Ministry will unambiguously include rights, protections, and access to all enforcement mechanisms for all artists working in Korea regardless of nationality in all regulatory mandates that spring from this new law.
The press statement by DAKA says that there is some ambiguous language in the new law regarding which artists it covers. We have been assured by a representative from MCST that foreigners are covered and will be included in all sub-laws. But which foreigners will be included? Discrepancies between the current laws on the books and their subsequent regulatory mandates give us some reasons for doubt.
There are existing artists' rights laws in Korea — the Copyright Act (저작권법), for example — that already make no distinction between artists that are Korean citizens and those that were born elsewhere, and yet the enforcement mandates for these laws exclude most foreign artists. Therefore, regardless of nationality, the 'Act on the Guarantee of the Status and Rights of Artists (AGSRA) should be implemented for all artists and art college students working in Korea.
Accordingly, DAKA requests that Article 3 (2) of AGSRA be amended as follows;
"An artist shall be duly respected as a person who has rights to freely create culture, participate in cultural activities, and enjoy culture (hereinafter referred to as "cultural rights") without being discriminated against in cultural expressions and activities, regardless of nationality, ethnicity, race, religion, language, region, gender, generation, political opinion, social status, economic position, physical condition, etc. and as a person who contributes to the realization of a cultural State and the improvement of the quality of life"
Artists from various nationalities working in Korea have jobs in the Korean culture and arts industry, create and engage in economic activities, and pay taxes. However, they are experiencing various difficulties, such as sexual harassment and sexual violence, as well as discrimination in the field of labor and with their rights and welfare as art workers. The problem is that migrant artists have not yet been guaranteed their rights within the system of the 'Artist Welfare Act' and the FAC.
Therefore, AGSRA is a system that not only Korean artists but also migrant artists have been eagerly waiting for. We sincerely welcome the Korean government's decision to ensure that artists' rights are protected by AGSRA regardless of nationality. However, we ask you to carefully examine and supplement detailed enforcement ordinances so that migrant artists are not alienated by nationality again.
Guaranteeing artists' rights, and preventing sexual harassment and sexual violence are not rights of the citizens only but are human rights. And, it is also a basic valid logic in the interpretation of the Constitutional interpretation.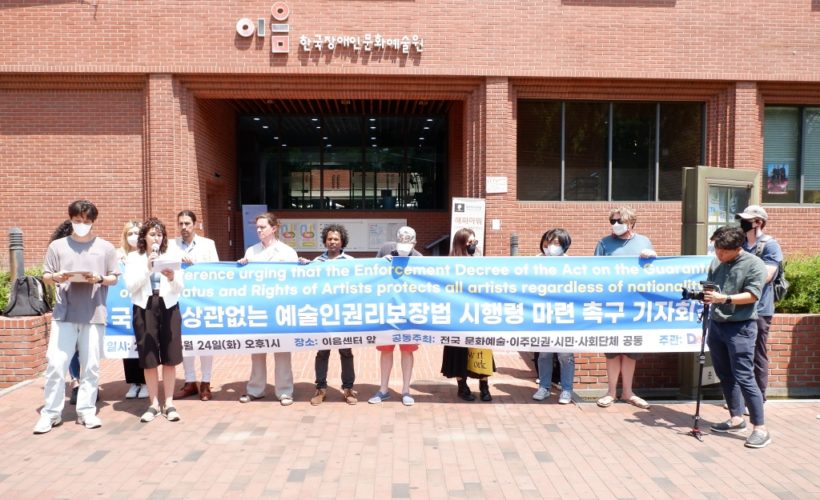 Bereket Alemayehu
Photo artist, social activist & writer based in Seoul, South Korea
Link: https://www.pressenza.com/2022/05/diverse-artists-of-korea-association-holds-a-press-conference-on-the-guarantee-of-the-status-and-rights-of-foreign-artists/?fbclid=IwAR2nOwhhKtCU6wmrtGX-sgmDTGuiSdMea_Oo-E9RH-DkNt2-PyaWgDQ5nso